13dec7:00 pm8:00 pmCANCELED: Sand, Snakes and Silver Wings: Women Pilots of WWIIwith Storyteller Rebecca Hom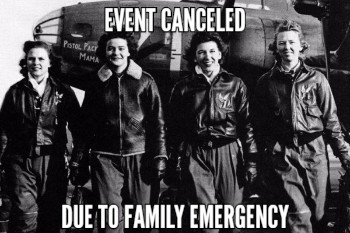 Event Details
THIS EVENT HAS BEEN CANCELED DUE TO A FAMILY EMERGENCY AND WILL BE RESCHEDULED AT A LATER DATE.
Storyteller, Rebecca Hom, will share the stories of several Women's Airforce Service Pilots (WASPs), as well as the history of the program.
Sand, Snakes and Silver Wings: Women Pilots of WWII
The WASP (Womens' Airforce Service Pilots) training base was in Sweetwater, TX — – a dry,
desolate place. 1,100 women trained there, at Avenger Field, during World War II. They were
selected from more that 25,000 applicants from all over the United States. Those chosen were
highly qualified civilian pilots, and became the first females to fly military aircraft. Their
proficiency, enthusiasm and spirit served the country, broke the norm and paved the way for the
inclusion of female pilots of the future.
Rebecca Hom will share the stories of several WASP pilots, and cover the general history of
the WASP program; its creation, its conflicts and controversial disbandment. The WASPs were
an essential part of the US military's air efforts during WWII. They delivered planes to US
bases, for male pilots to fly overseas. They towed targets for ground artillery training, and
tested new or repaired planes before delivery. They flew over 60 million miles during the short
two years of the program. They served with pride, grace, and quiet glory. Their stories are part
of our history.
more
Time

(Wednesday) 7:00 pm - 8:00 pm MST
Location

Gunnison Library

1 Quartz Street, Gunnison, CO 81230