Gunnison County Libraries
Learn More
Our libraries are expanding their services. What does that mean?
On May 4, 2020, our libraries will begin providing access to physical collections. The public health order (PHO) issued on April 25, 2020, allows libraries to provide curbside pickup. 
What is the schedule for the newly added services? 
Our libraries have limited staff that are able to safely provide these expanded services. Service will be available at both of the District's locations; Gunnison Public Library and Crested Butte Library on alternating days, Monday through Thursday. Hours will be 12pm to 6pm. 
Monday Gunnison Public Library 12pm to 6pm 

Tuesday Crested Butte Library 12pm to 6pm 

Wednesday Gunnison Public Library 12pm to 6pm 

Thursday Crested Butte Library 12pm to 6pm 

Friday — Sunday Closed for cleaning and materials processing. 
How do I arrange a pick-up time?
Please call.
Gunnison Library: 970-641-3485 x2 
Crested Butte Library: 970-349-6535 
Pick-up service will only be available on the day you call. Call the library during open hours to arrange pick-up. We will not hold items for multiple days. We will not arrange pick-up via email. 
Can I return my items?
Yes, please bring them to our bookdrops at the Gunnison or Crested Butte libraries. We are restricting access to our remote bookdrops during this time.
How do I physically pick up the item? 
Please call the library during open hours you will be asked what time you would like to pick up your requested item(s). Your items will be placed outside the library for you at that identified time in a bag. 
Pick up will occur at the Gunnison Library in the West side alleyway at a table. 
Pick up will occur at the Crested Butte Library on the window sill to the left of the front doors, on the East side of the building. 
Will I be able to print items, fax, and use the scanner? 
Our libraries will be providing printing, faxing, and scanning services with the curbside model. Please call the library during its open hours to arrange pick-up of printed items. You will be asked to email the item to the library. The library will print your item and arrange a time for curbside pick up. The same method will be used for faxing. We will also be happy to scan an item to your email and return the item to you or destroy it at your direction. 
What are you doing to clean/disinfect library materials? 
All library materials will be quarantined for at least one week prior to being made available for checkout by another person. 
The American Library Association, in concert with the Northeast Document Conservation Center, are recommending a 72 hour quarantine for all library materials after they have been returned. Their 72 hour recommendation is based on this study by the New England Journal of Medicine on March 17, 2020 (https://www.nejm.org/doi/pdf/10.1056/)
Our libraries are taking a very cautious approach and are committed to quarantining items for at least one week. 
What are you doing to keep library staff members and the public safe? 
We will be strictly adhering to the Center for Disease Controls guidelines for protecting people and cleaning spaces. 
https://www.cdc.gov/coronavirus/2019-ncov/prevent-getting-sick/prevention.html 
https://www.cdc.gov/coronavirus/2019-ncov/community/reopen-guidance.html
Can I come inside the library to use a computer, phone, fax machine, printer, or restroom?
In accordance with the Public Health Order only curbside service will be available. No member of the public will be allowed inside the libraries for any reason.
Will I be able to request items from other libraries or place holds on items? 
The statewide courier service remains closed at this time. The valley wide courier service is also suspended at this time. Only items that are already available through our libraries will be available for check out. 
Will I be able to make a purchase request? 
YES! We will be very open to helping fulfill people's requests for specific titles. Please call the library during open hours to make a purchase request. 
What if I don't have my library card or know the card number?
The library will be able to look up your account by name. We will ask for additional information, such as your address, to verify your identity.
What should I do with the books I have at home from before the libraries closed?
Returns are welcomed beginning on Monday May 4, 2020. All items currently checked out are due by June 15, 2020. Please take your time in returning items, continue to enjoy them. Slowly returning your items will help us with the effective quarantine of returned items. Items may be returned during open hours in person or in library bookdrops. 
Can I donate books and other items to the libraries now? 
NO, please do not donate books or other materials at this time.  
Will I need to pay my library fines or pay for other services? 
No. In order to help ensure the safety of staff, our libraries will not be accepting money at this time. We will be working with people to allow their use of the library for free. 
What about holds placed before the shutdown?
If you had an item on hold before the library closed for in-person service on Friday, March 13, these materials can now be picked up, by arranging a curbside pick up time. No additional holds can be placed at this time. 
Will I be able to access the libraries' WiFi connections?
The libraries' WiFi connections will continue to be available. Social distancing guidelines will be required on all library property.
Tech Time
---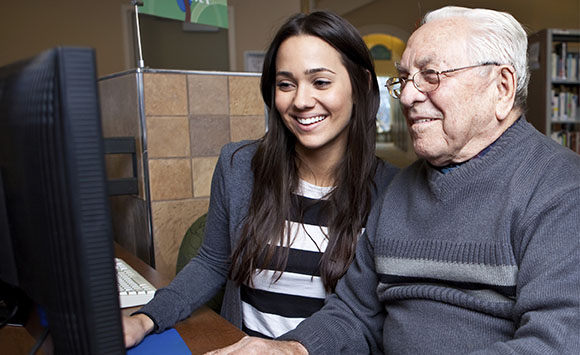 Check out a Tech Time class at your local Library
Register Now